My Culinary Journey: Bringing our team together
Bringing the team together in your remote work setup. Solve team bonding with the art of cooking!
The way to people's hearts is through their stomachs.
In January 2022, I began working with mobile.dev. While I was thrilled to start my fully remote work journey and embrace the flexibility it offered, I didn't fully consider the potential drawbacks. During the initial months until April-May, I spent time figuring out the ideal space in my home where I could concentrate and work. Whether it was my dedicated setup or my balcony. Occasionally, I would also head to a nearby cafe, located just 800 meters from my home.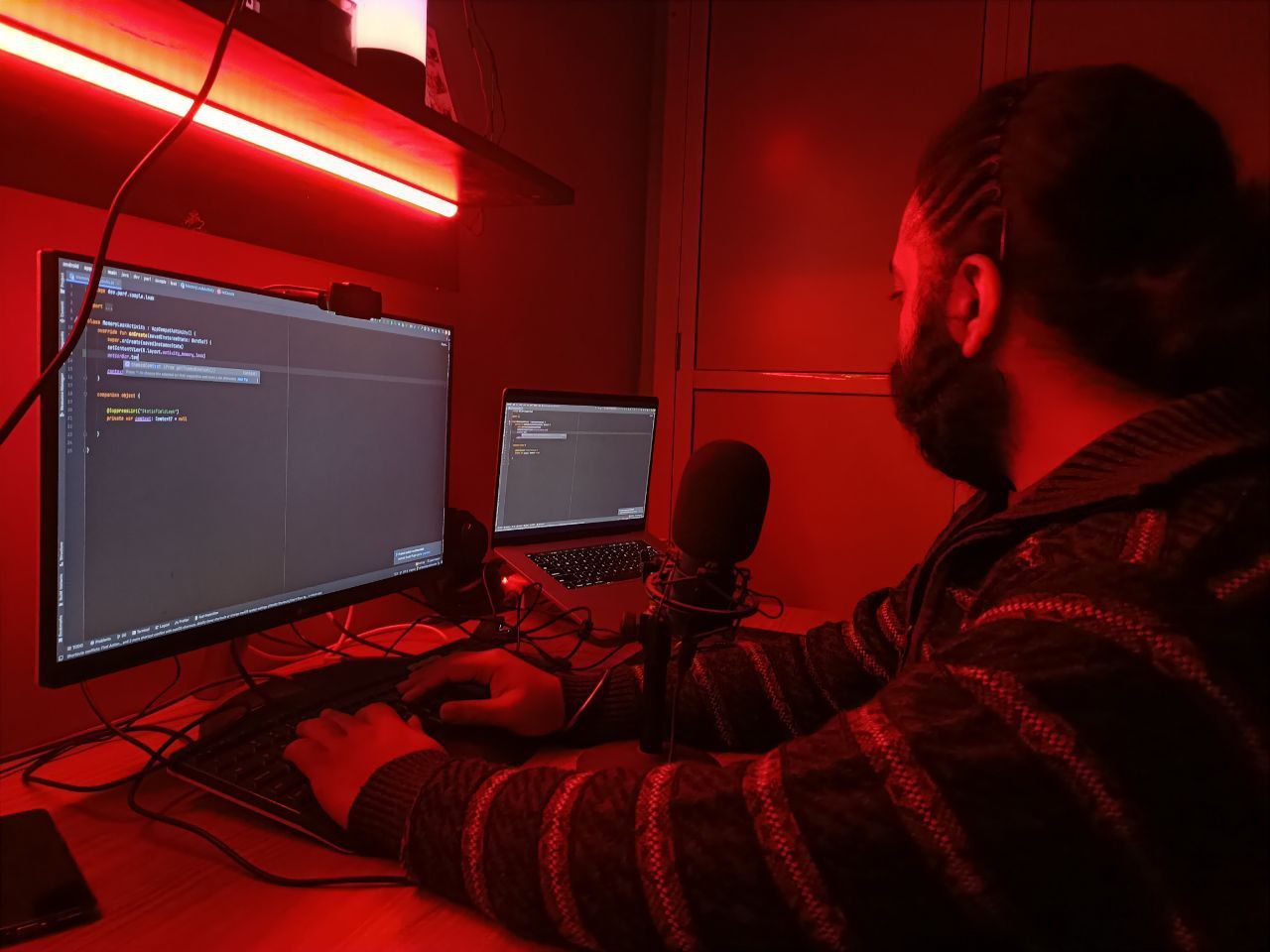 While the flexibility of remote work may seem appealing, as I had thought, there is always another side to the coin. When your team operates in different time zones, remote work can present various challenges to team bonding. This reality struck me hard when I attended Droidcon SF in 2022 and I had the opportunity to meet some of my co-workers in person. It was then that I realized what had been missing from my day-to-day life.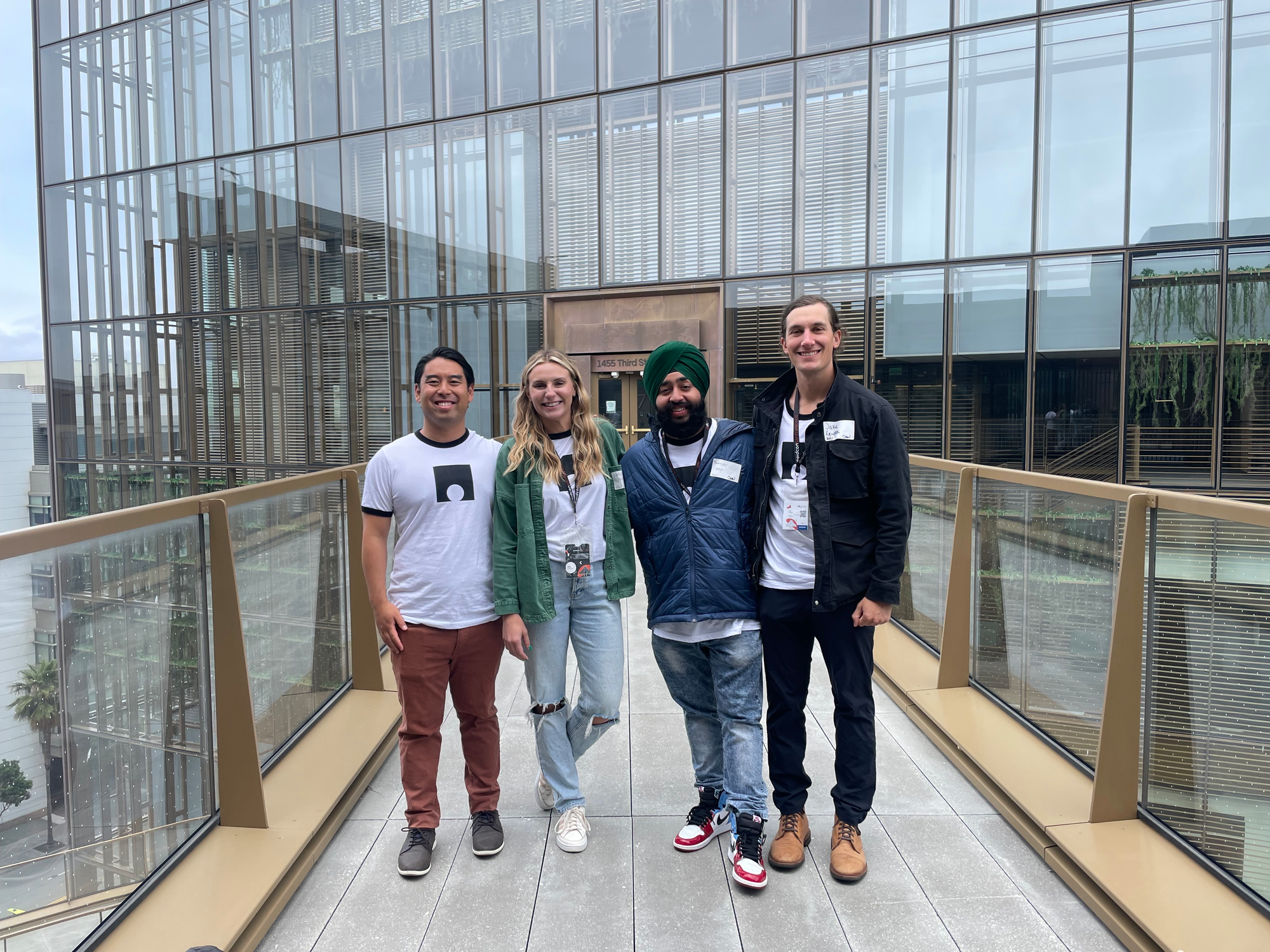 Not having an in-person office in this "new normal" can have its own side effects:
You will miss out on those breaks you used to take between your focused times and meetings, where you would meet other colleagues and have non-work-related conversations.
You will miss the productive environment of an office, surrounded by your peers as compared to when you are sitting at home.
You will miss out on the collaborative aspects of co-working and brainstorming solutions with your peers, which can be essential at times.
A part of your social circle comes from office friends, and that aspect could be missing if your office is fully remote.
Okay, that's a lot to consider, but dwelling on problems will only breed negativity. Upon returning from my Droidcon SF trip, I had a meeting with one of my friends in the office, and together we brainstormed ideas to enhance team bonding. We came up with several suggestions:
Plan fixed days for playing online games together.
Have dedicated "watercooler calls" where work-related discussions are off-limits, allowing for casual conversations.
Arrange virtual get-togethers for meals, where team members can join a call and enjoy a meal together.
Although all of these events are great, sometimes they may fall short in terms of attendance. I needed an idea that could engage everyone even when we were not on a call. During my discussion with my friend, the topic of food came up, and it sparked an idea in my mind: cooking! I decided to solve the attendance issue by incorporating cooking into our team bonding activities.
The concept was simple. I would start alphabetically and select a friend from my office. I would then ask them to recommend a local or their favorite recipe, which I would prepare at home. Let's take a look at the culinary creations I embarked upon!
Tortilla de Patatas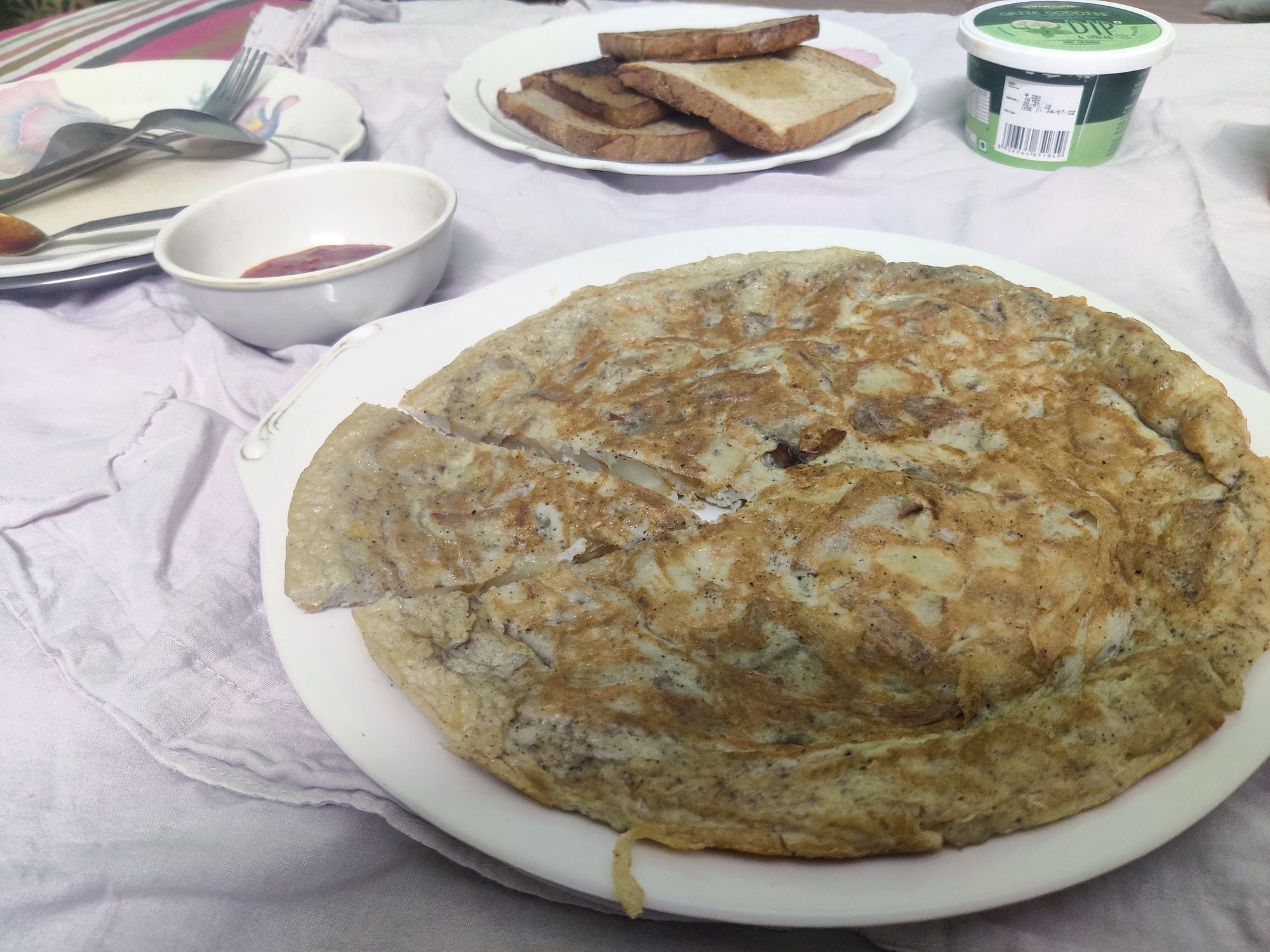 This recipe was recommended by Artem Sidorenko, who resides in Barcelona, Spain. Tortilla de Patatas is an omelette made with eggs and potatoes, sometimes including onion. For this particular dish, I used six eggs and filled them with slices of potato. It was substantially heavier compared to a typical Indian breakfast, where we usually have toast or something like Poha. The taste of the tortilla was further enhanced by dipping it in ketchup.
In return for this, Artem cooked one of my favorite dishes, Chole Chawal, which turned out to be absolutely delightful.
If you're interested in trying out the Tortilla de Patatas recipe, you can find it here: Recipe: Tortilla de Patatas
Greek Moussaka
This recipe was recommended by Arthur. I was incredibly excited to dive back into cooking, but this time I was attempting baking for the first time. The cooking process began with great enthusiasm, but unfortunately, due to my limited baking skills, I made a mistake in configuring the oven temperature and ended up breaking the baking bowl. There was a moment when I felt like giving up, but my mom encouraged me to persist, and I'm glad I did because we ended up having a delicious dinner.
Moussaka turned out to be similar to a savory slice of cake. It had a spicy and rich flavor. Although the dish didn't look perfect due to the mishap, we managed to transfer it to a different bowl and still enjoyed its incredible taste.
If you're interested in trying the Greek Moussaka recipe, you can find it here: Recipe: Greek Moussaka. And finally, after all the ups and downs, here's how it turned out: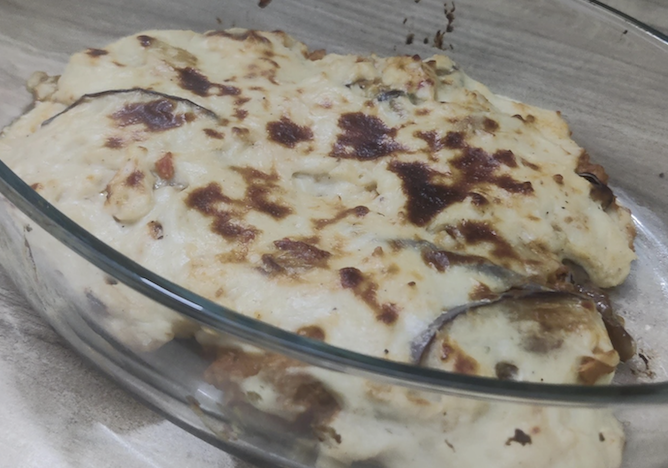 Swedish Meatballs
This recipe was recommended by Axel. Honestly, it was the highlight of my cooking streak, considering factors like taste, photography, and food presentation. I vividly recall that my cousins were visiting at the time, and they absolutely loved the flavor.
This dish holds a special place in my heart, particularly because I plan to make it again, especially for my dad. He was a vegetarian back then but has recently started enjoying non-vegetarian dishes.
Swedish Meatballs are perfect as an appetizer, paired with some drinks, and can truly elevate the ambiance of any room.
If you're interested in trying the Swedish Meatballs recipe, you can find a helpful tutorial here: Recipe: Swedish Meatballs. Trust me, it's worth giving a try!
And here's a glimpse of how the dish turned out: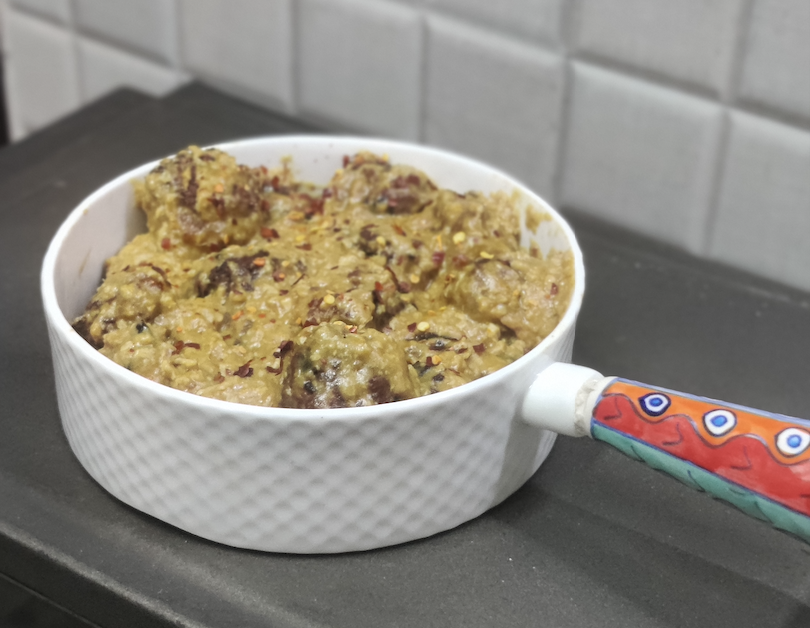 Tex-Mex Migas
This recipe was recommended by Ben, a former contractor who worked with us. He suggested this easy, yet tricky, dish. I remember researching it and discovering that there are countless ways to prepare migas. Comparing the recipe I received from Ben with others, I realized the versatility of this dish.
During this cooking experience, I was in Bangalore (often referred to as the Silicon Valley of India) with my brother and his friends. We decided to get creative and added our own unique stuffing to the tortilla, in addition to following the recipe's instructions.
While Tex-Mex Migas are typically enjoyed as a breakfast dish, we savored it as an appetizer before dinner, accompanied by some refreshing drinks. It provided a delightful sense of relief and satisfaction.
If you're interested in trying the Tex-Mex Migas recipe, you can find a helpful tutorial here: Recipe: Tex-Mex Migas.
And here's a glimpse of our unique variation of Tex-Mex Migas:
Poffertjes
This delightful dessert was recommended by Berik. It marked my first dessert experience during this cooking streak. I vividly recall preparing it for breakfast on a Sunday morning. One of the best things about such desserts is that they require a short cooking time while delivering fantastic taste.
It was also my first time working with yeast and witnessing the dough rise after some time felt like pure magic. It brought back memories of watching episodes of Masterchef India, where renowned chef Ranveer Brar often emphasized the scientific aspects of cooking.
I remember savoring 4-5 small pieces of Poffertjes alongside a cup of cold coffee, and surprisingly, it kept me full until the afternoon.
If you're interested in trying the Poffertjes recipe, you can find a helpful tutorial here: Recipe: Poffertjes. Indulge in the sweet and fluffy goodness!
And here's a glimpse of the mouthwatering Poffertjes I prepared: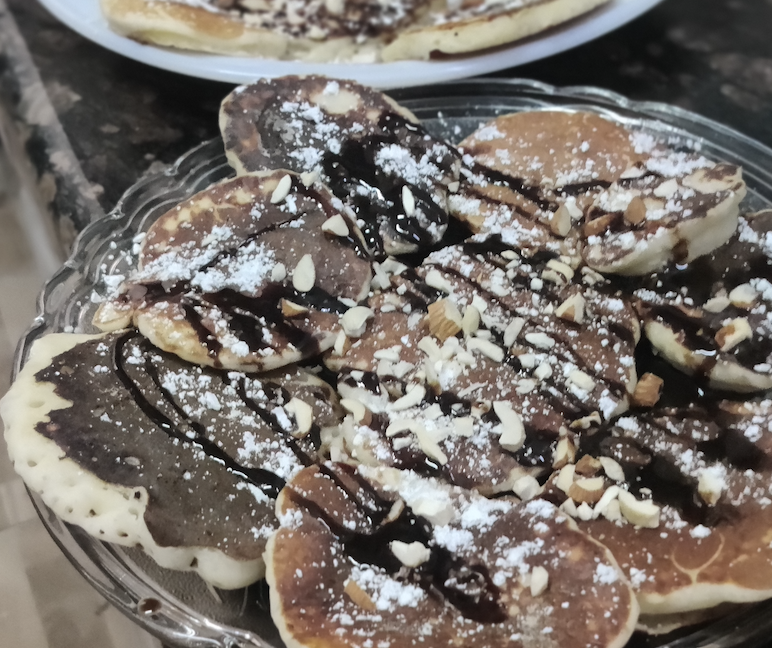 Chocolate Salami
Interestingly, Chocolate Salami wasn't initially on my cooking list. The original recommendation from Dima was Borscht. However, due to being occupied with work, I decided to go for something easy. Since I had enjoyed making pancakes the previous week, I leaned toward another dessert option.
Desserts come in various flavors and sweetness levels. Chocolate Salami leans towards the higher end of sweetness, but I adjusted it to my personal taste. If you're having a cheat day, this dessert is an absolute must-try!
If you're interested in making Chocolate Salami, you can find a recipe here: Recipe: Chocolate Salami. It's a treat that combines the rich flavor of chocolate with a unique presentation.
And here's a glimpse of the Chocolate Salami I prepared: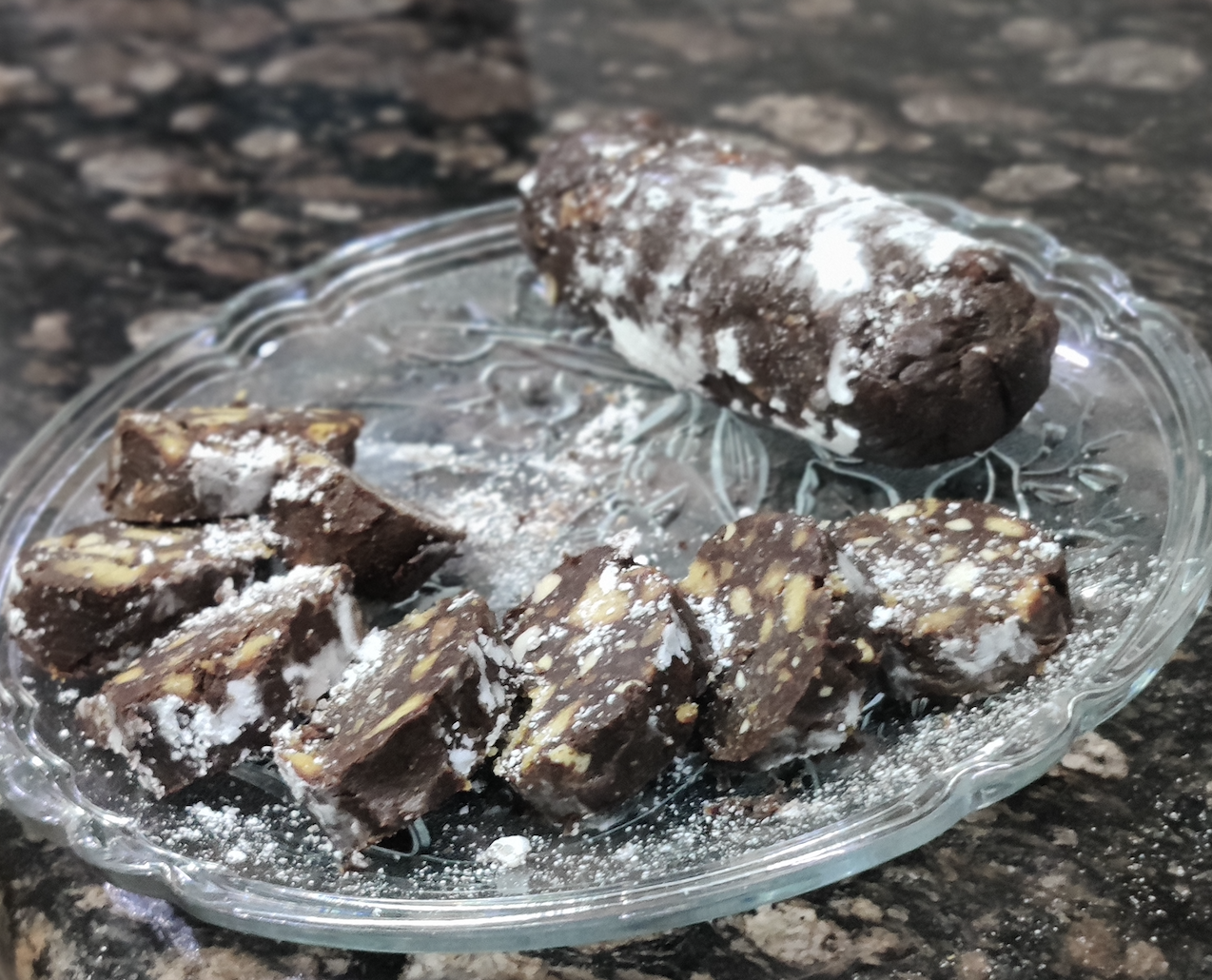 Brigadeiro
Brigadeiro is a delectable Brazilian dessert that was recommended by Felipe Volpone. If you're looking for bite-sized treats to satisfy your sweet tooth, Brigadeiros are a perfect choice. They can be coated in various toppings, adding a delightful texture and flavor to each bite. I had the pleasure of trying them with pistachio, chocolate, and shredded coconut, and I must say, the coconut one stole my heart.
If you're interested in making Brigadeiros, you can find a helpful recipe tutorial here: Recipe: Brigadeiro. Get ready to indulge in these irresistible Brazilian sweets!
Here's a glimpse of the Brigadeiros I made, featuring the coconut-coated variation: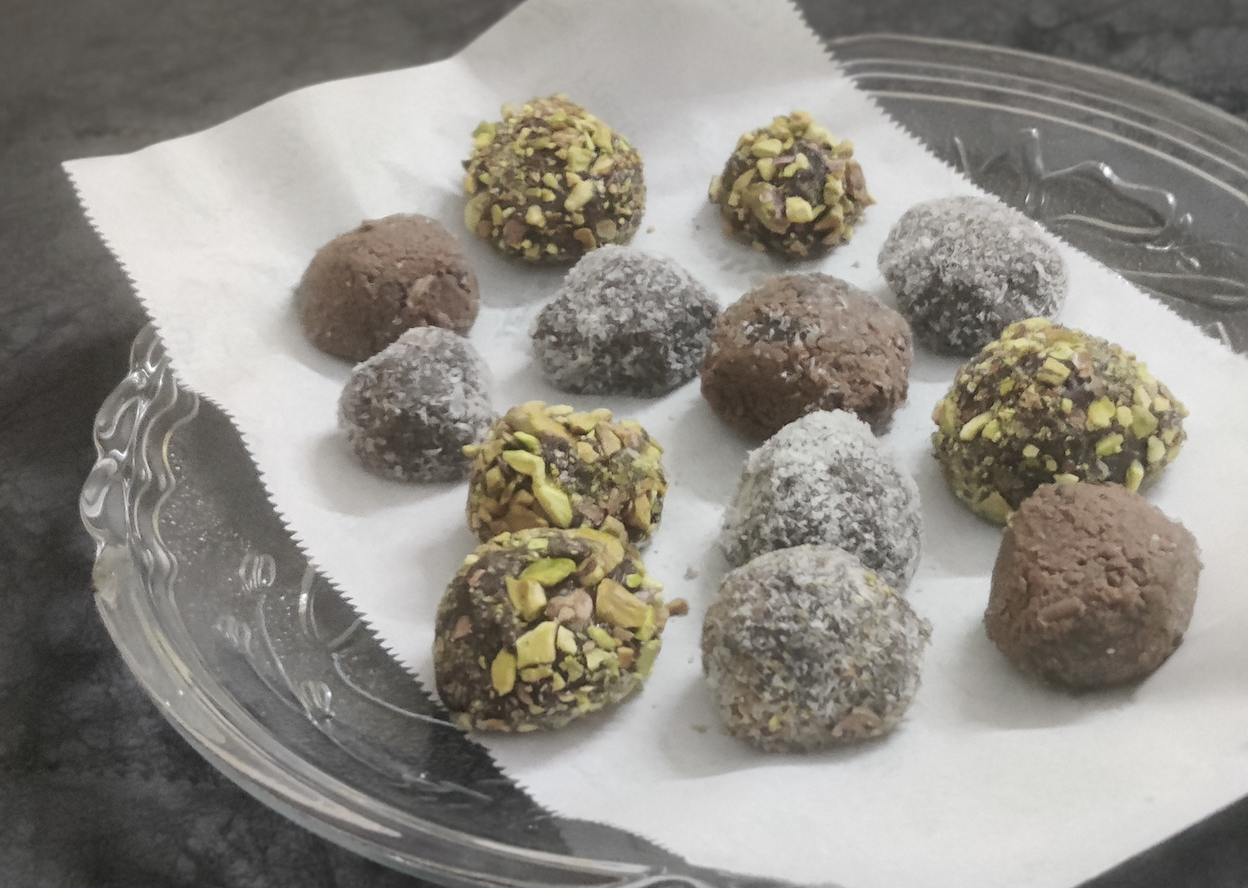 Bolo De Fuba': Brazilian Cake
The recommendation for this cake came from Igor Lema. This has to be the easiest cake I have made. Although coming this far I got a decent hand in baking but this seems to be easy for even starters.
Not to forget that this was actually a replacement for Brazilian Crepes which Igor asked me to cook in the first place 😂 I feel so embarrassed to even show the picture of that failure.
But waiting for another recipe was definitely worth it. Here is the recipe in case you want to give this cake a try: Recipe Bolo De Fuba'. And here is a glimpse of this cake: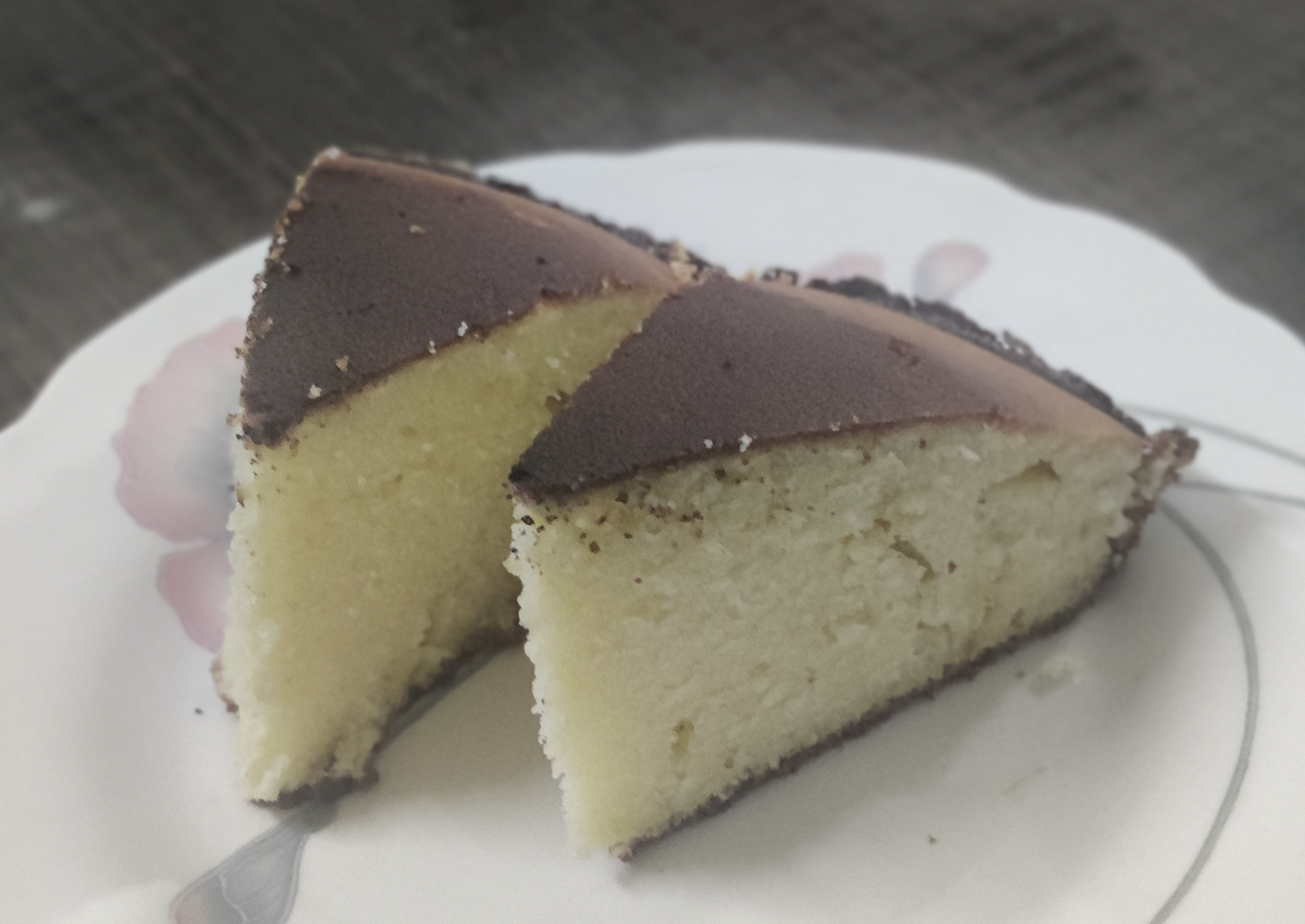 Rack of Lamb
The recommendation for Rack of Lamb came from Jacob Krupski. I still have fond memories of my uncle preparing this dish for me, instantly turning me into a fan. Needless to say, I was thrilled to take on the challenge of cooking it myself. However, I encountered two challenges along the way:
Finding the right meat: Lamb meat is not readily available in all parts of India, so I had to find an alternative. I opted for goat meat instead of lamb to cook these chops. While it wasn't the exact same, it provided a suitable substitute for the recipe.
Achieving the perfect "doneness": The key to a successful Rack of Lamb lies in properly gauging the doneness of the meat. It can elevate the entire dish if done right, but if mishandled, it can result in disappointment. I wasn't initially familiar with how to determine the doneness and adjust accordingly. Additionally, goat meat tends to be tougher compared to lamb, requiring more time to cook at the same temperature specified in the recipe.
If you're interested in trying the classic Rack of Lamb recipe, you can find a helpful guide here: Recipe: Classic Rack of Lamb. Prepare yourself for a flavorsome and satisfying culinary experience!
And here's a glimpse of the Rack of Lamb (prepared with goat meat) I cooked: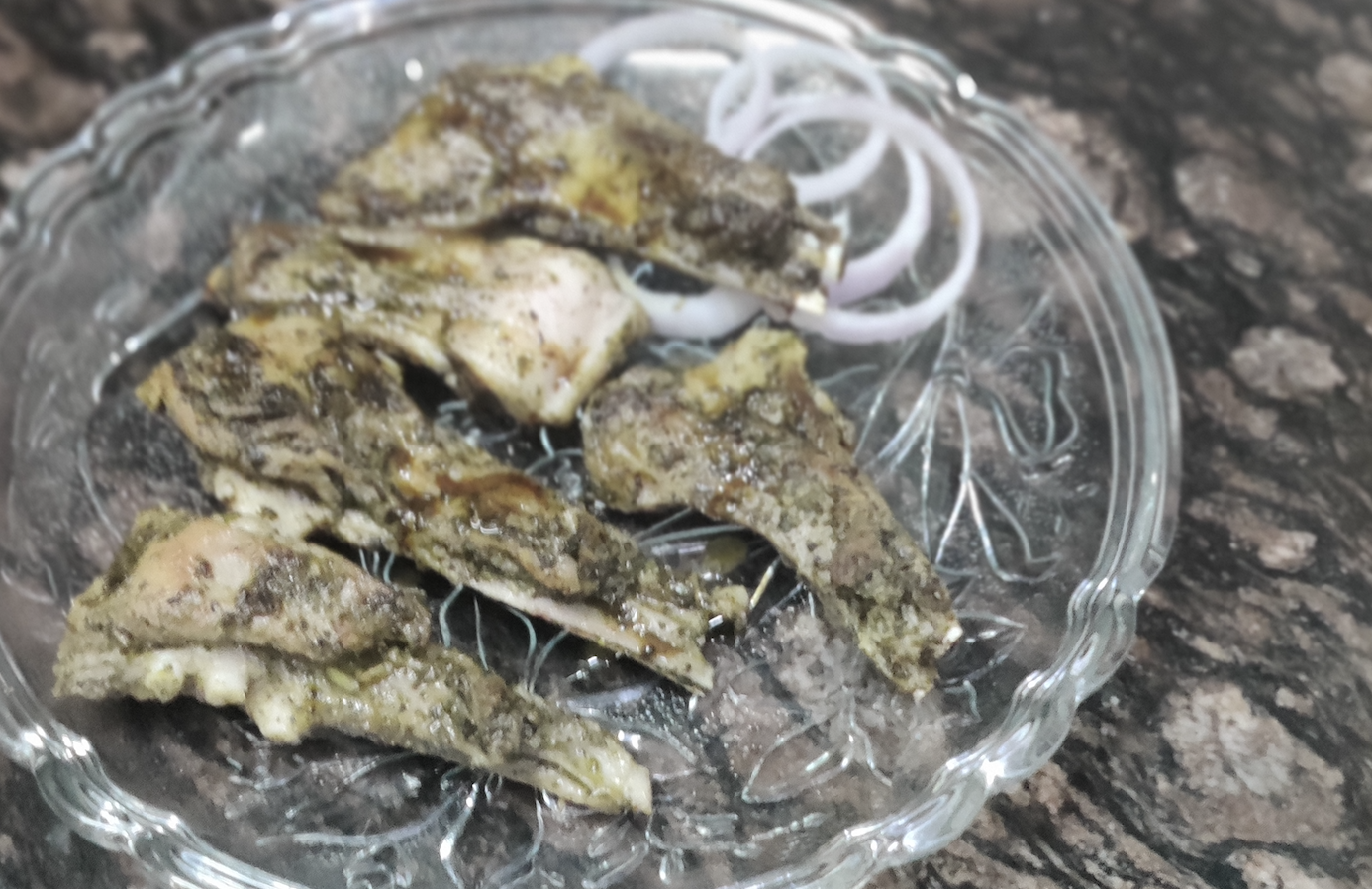 Texas Chilli
Texas Chili was a recommendation from Kimberly Osborne, selected during our brainstorming session to strengthen team bonds. It brought me immense joy to see the enthusiasm for choosing recipes and exploring new flavors together.
For Texas Chili, I faced a challenge with the availability of specific meats. As a substitute, I decided to use chicken instead, while keeping the rest of the recipe intact. I prepared this dish on a day when I had a large family dinner planned, which added a bit of risk. Adjusting the spices and other ingredients to accommodate the number of people was crucial. A small miscalculation could have affected the overall taste. However, I took on the challenge and proceeded with confidence.
If you're interested in trying the Texas Chili recipe, you can find a helpful tutorial here: Recipe: Texas Chili. This hearty and flavorful dish is a true Texan delight.
And here's a glimpse of the Texas Chili I cooked using chicken: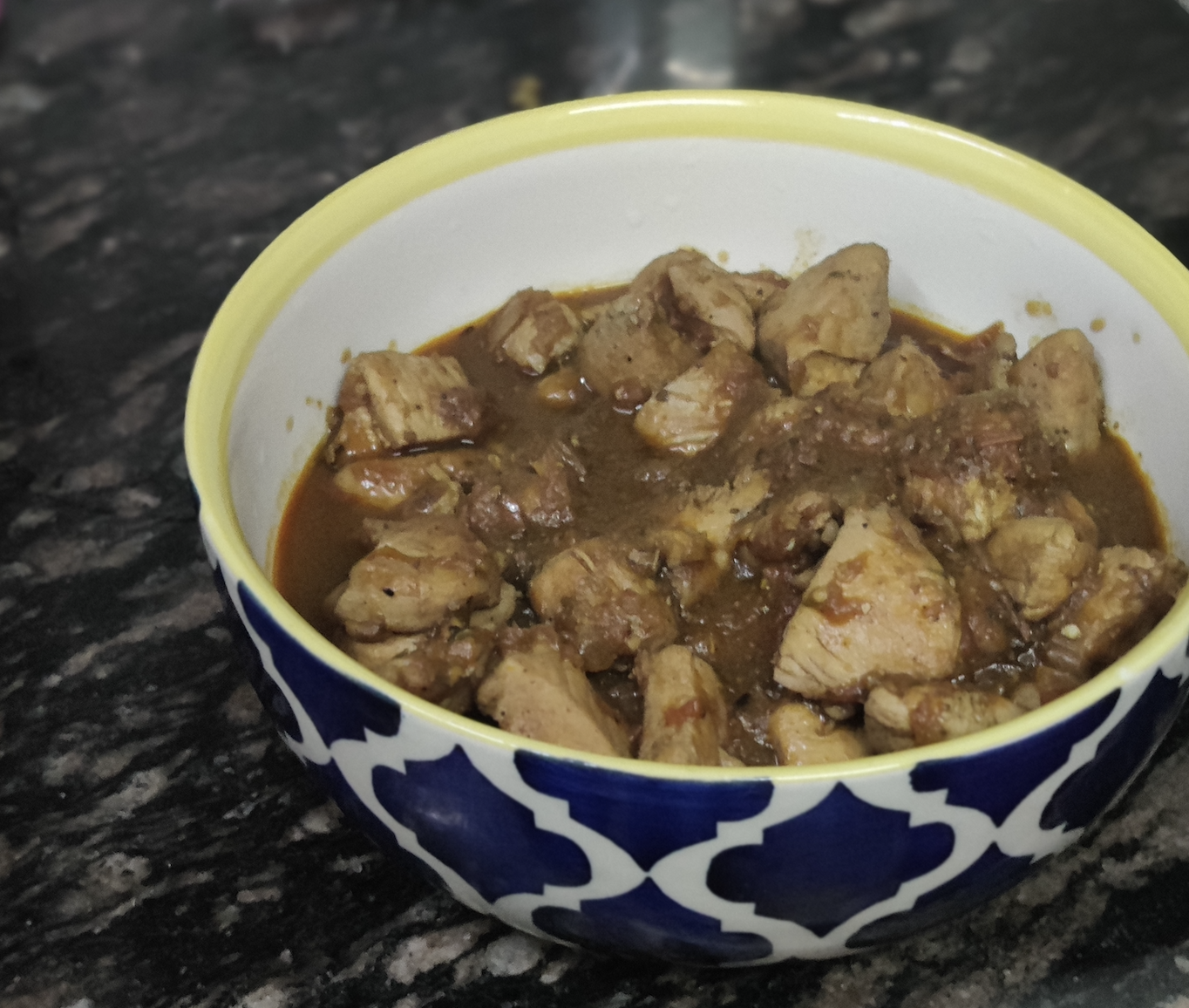 Loco Moco
Loco Moco was a recommendation from Leland Takamine. This is my brother's favorite one which he wants me to cook again. Again in the absence of ground beef, we cooked this with goat meat. The taste of eating all three layers of rice, meat patty, and egg will take you to another place.
This was one of the dishes which at first glance would seem difficult but is not very difficult when you practically complete your cooking.
If you're interested in trying this recipe, you can find the recipe here: Loco Moco.
Here is a glimpse of this delicious Loco Moco: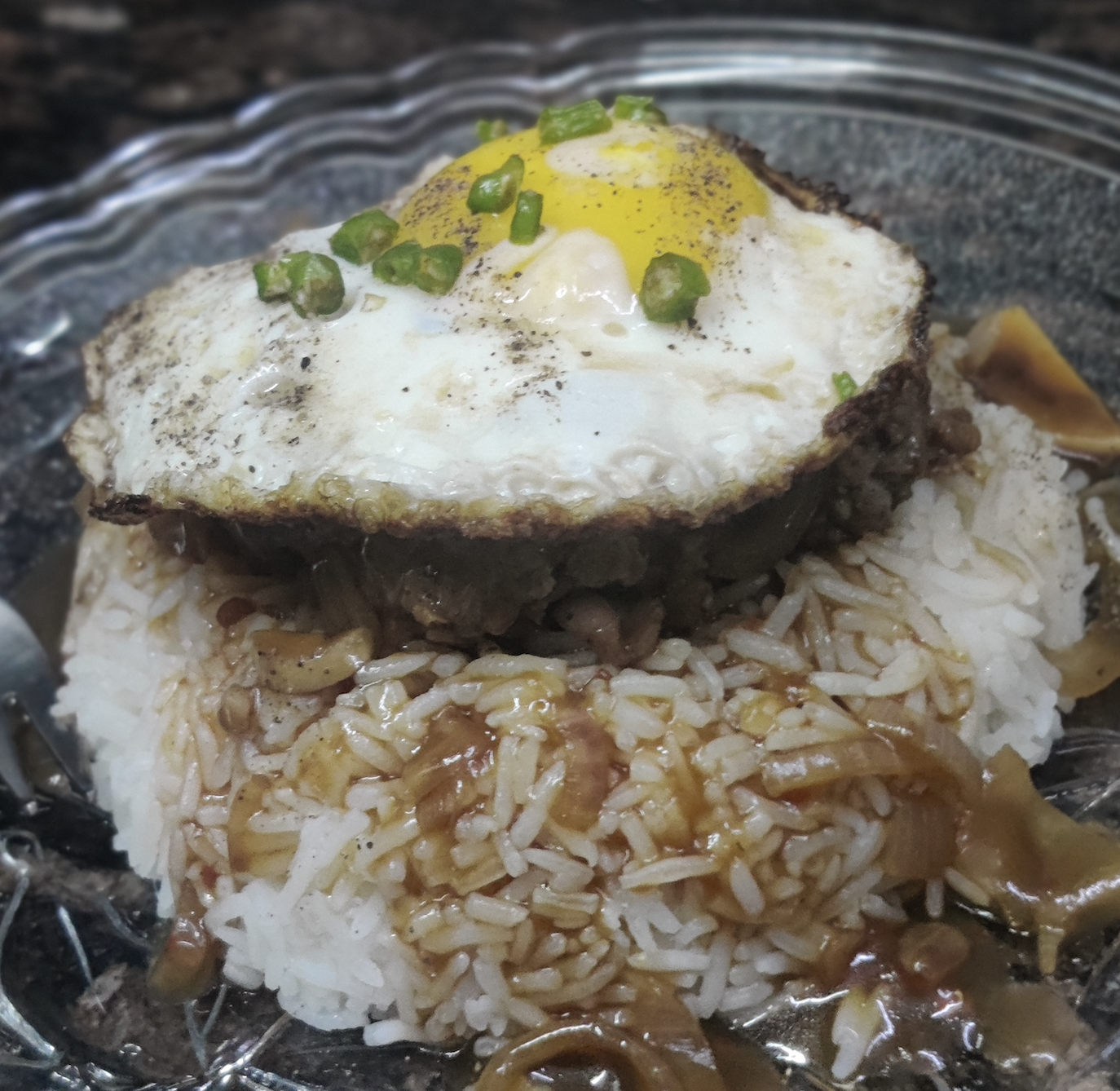 Pecan Topped Sweet Potato Casserole
Sweet Potato Casserole was recommended by Molly Hartwick. This was really heavy for me, honestly, I felt it was as heavy as a cheesecake. The original dish is not supposed to be so sweet. I added some sugar myself but I think this time I didn't get the sugar amount right. On top of that amount of butter was also more, it ended up being tasty but at the cost of being as heavy as cheesecake. Definitely for sweet tooths.
The cooking experience was also difficult for me since I remember it didn't got baked completely in time written in the recipe. New lesson learned we can keep it for more time just checking periodically if it really got baked. But I think I got some part of it burnt up as well 🥲
If you are interested in trying this Recipe, you can find the recipe here: Recipe: Sweet Potato Casserole.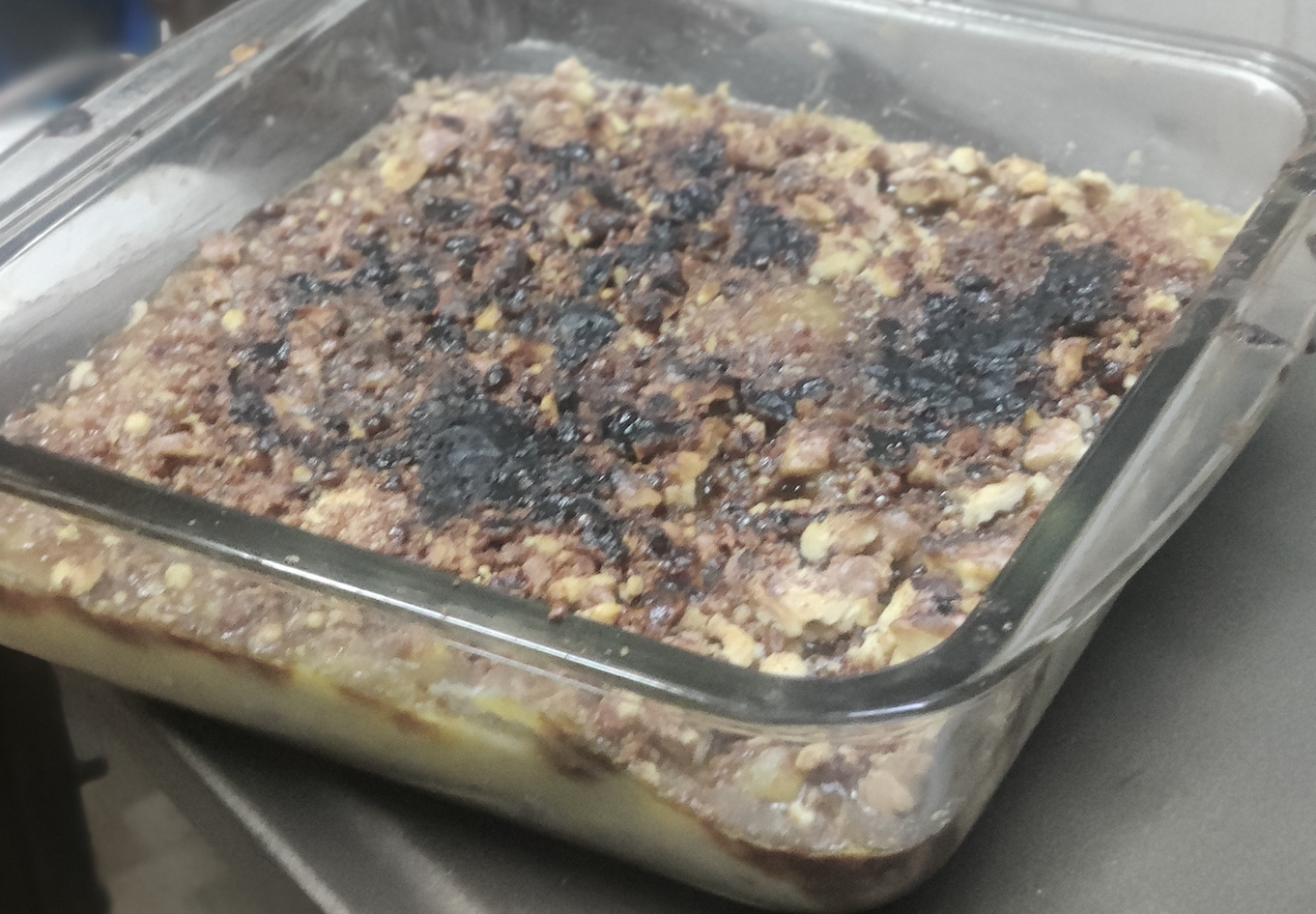 That's all folks 🎉, what activities do you try to increase engagement in your remote work setup? Would love to hear your ideas and suggestion 🙌
If you enjoyed this article, follow me on Twitter for more content like this.